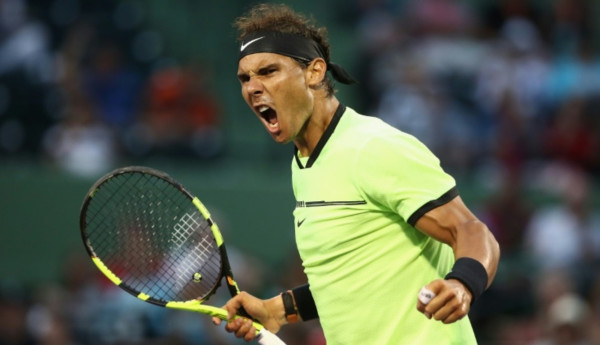 Rafael Nadal returned from a terrific first set to beat the German Philipp Kohlschreiber 0-6, 6-2, 6-3 and advance to the fourth round of the Miami Open on Sunday.
The Spaniard, playing his 1000th ATP match, suffered only the 14th 0-6 of his career, claiming only 33 percent of the first points earned and making a chain- Unforced errors.
Having gone badly, Nadal managed to rediscover his form in the second set and ended up winning a comfortable winner.
Nadal said there was little he could do against the outstanding piece of Kohlschreiber in the opening game.
"He was doing all the good, it 's sport, as I said a hundred times and when someone plays as he played the first set … he played too well, This is all, "said Nadal.
"The positive thing is that I resisted the pressure after a very difficult first set. I resisted well the first matches of the second, and I think I played A big second and third set, "he said.
Nadal said the key to his return had been his ability to change the tempo and rhythm of the match.
"It was obvious that the points had been too fast, he managed to come back so fast and hit each ball as hard as he could. So I need to play a little more points.
"It does not have to be more or less aggressive, it is to change a little position on the court. I went back on the return. Tried to play a few more balls against his backhand.
"It happened … and I think my service was very good in the second and third set," added Nadal, who then faces French Nicolas Mahut. Mahut beat the Argentinian Guido Pella 6-4 6-3.
Nishikori passes test Verdasco
Japan's Kei Nishikori suffered a tough test against Spanish Fernando Verdasco 7-6 (7/2), 6-7 (5/7) 6-1.
The finalist defeated last year, Nishikori will face Argentinian Federico Del Bonis, who defeated the German Jan-Lennard Struff 7-6 (7/5), 6-1.
Verdasco has yet to win against a top ten opponent this year, but showed a lot of spirit in a two-hour 44-minute contest on the central court at Crandon Park fight back for Win a tie-break together second
But Nishikori stepped up in the third, fleeing with the set to ensure his progress.
"I knew it was going to be hard," said Nishikori. "Fernando is a very solid player, he has great service and good ground strikes."
"But it was a shame when I had a break in the first and second set and both went to 7- 6. I made some mistakes when I was a Pause. But in the third set, I was very focused, "he added.
World number five injured by injuries Milos Raonic left the tournament shortly before his match against American Jared Donaldson, citing a recurrence of a hamstring injury
Canadian Raonic originally suffered the semi-final injury to Delray Beach and was forced to lose the final against American Jack Sock. He then missed the Masters test this month at Indian Wells.