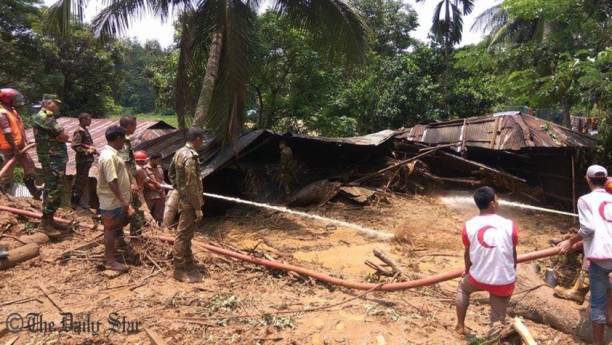 Six bodies were recovered at Chittagong and Cox's Bazaar this morning while research resumed in the hilly neighborhoods, where the number of deaths landslides gained 135 .
Bodies of four victims surfaced after the water from the flash flood dropped in Chittagong, while two others were buried in a new landslide in Coaz's Bazaar At the beginning of the year
.
Meanwhile, a relatively brighter sky was helping the rescue work in Rangamati, where the toll could increase. The Met office nevertheless forecast heavy rains in the area.
In Cox's Bazar, a crash buried a Selim Md, 40, and his daughter Tishu Moni, 3, in the Teknaf Hokkkon area around 3 am, Officer of Upazila Nirbahi, Jahid Hossain Siddique.
Rangunia agent Upazila Nirbahi, Md Kamal Hossain and President Ali Shah said four bodies were found this morning. After this recovery, only one more remains missing in the upazila – in flash flood
.
The deceased was mainly identified as Ashish Majumder, 45, his wife Anjana Majumder, 32, their daughter Toshi Majumder, 8, and another Dilip Dey, 50.
District authorities reported a Tk 20,000 aid for families affected by the landslide and handed them 30 kg of rice after their loss, said the UN.
Porimol Chandra Kundu, deputy fire department director at Chittagong Agrabad Station, told The Daily Star that a 62-year-old specialized team was sent to Rangamati to help with search and rescue.
Up to now, The Daily Star reported 135 dead in the hills until now – 100 in Rangamati, 26 in Chittagong, seven in Bandarban And two at Cox's Bazaar. Among the dead, there are four men of the army.