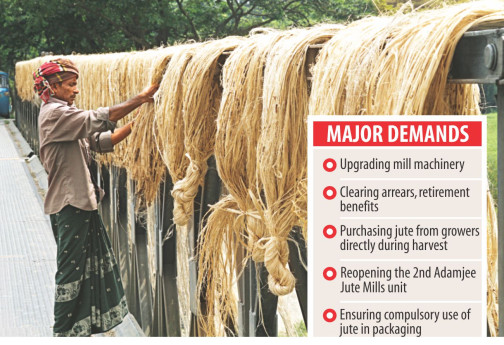 The Jute Protection Committee (JPC) yesterday urged the government to modernize the state-owned mills' ten-year old machinery, claiming that their production capacity has dropped by nearly 40 percent causing losses every year.
The Policy and Advocacy Platform also required the provision of labor arrears and pension benefits as well as the purchase of jute directly from growers during the harvest season.
"The lack of modern technology is the main problem for the factories.The old machines should be modernized to save the mills and the jute sector," said Shahidullah Chowdhury, president of JPC, at the time. a press conference at the Dhaka Reporters Unit in the capital.
Chowdhury, also a seasoned union leader, suggested accelerating Balancing, Modernization, Rehabilitation and Expansion (BMRE) initiatives under a protocol of The agreement signed in 2014 between Bangladesh and China to improve the productivity of 28 public factories. jute sector.
JPC Secretary-General Khalid Hossain said that a government allocation of 5,000 crore tk would be enough to modernize all jute mills in the Bangladesh Jute Mills Corporation and clear arrears and pension benefits .
Productivity dropped because machinery and equipment were installed in the 1950s, said Hossain, adding that the government should take steps to protect the interests of producers and workers.
"Workers wages of up to eight weeks have become due.Many former workers have not yet received pension benefits," he said, urging the Government to meet the demand in 11 points of the jute factory workers.
Jute factory workers have campaigned for a wage commission over the last two months and have requested a one-time payment of the allowances and weekly arrears.
Hossain said that a government allowance of 250 crore Tk would free up workers' wages and retirement benefits.
"We have seen in the past that mills suffered losses mainly because raw jute was not bought in time.It is possible to save 28% of the cost of production if the jute is bought during the harvest period, "he said.
"A lot of time is wasted in allocating funds for the purchase of jute," said Hossain, accusing corruption in the process of buying.
The CPM also demanded the reopening of a second unit of Adamjee Jute Mills and the full implementation of the mandatory packaging of food grains and various jute products to increase demand interior of natural fibers.