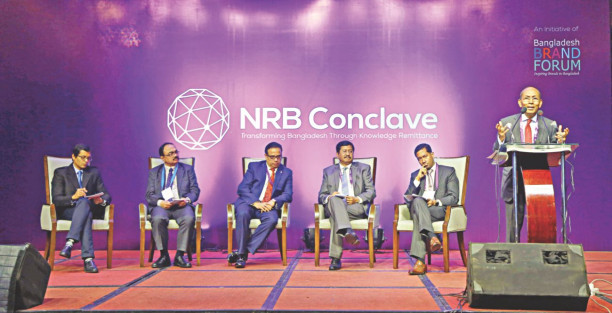 Non-resident Bangladeshi (NRB) can make a crucial contribution to the country's development through "knowledge transfer," according to experts.
They spoke at a conclave titled "Transforming Bangladesh Through Knowledge Transfer" which was held at Le Méridien Dhaka.
The Bangladesh Brand Forum (BBF) organized the event with the aim of exploring models and approaches to engage the NRB so that they can contribute more to the economy.
Shariful Islam, founder and CEO of BBF, said Bangladesh is now at a very critical stage of development.
The next 10 years will also be vital, he said during the event.
"We must apply the most avant-garde thinking, adopt the latest technologies and apply new models to make a quantum leap in development"
"NRBs through knowledge transfer can make a crucial contribution in this journey," he said.
About 300 guests, including prominent NRBs, policy makers, academics, artists and corporate professionals, attended the event.
Bangladeshi expatriates reported $ 12.77 billion in 2016-17, down 14.47% from one year to the next, according to data from the Bangladesh Bank.
The remittance is a major source of foreign currency for Bangladesh and its descent since fiscal year 2015-2016 has become progressively a concern for the government.
The speakers said that NRCs feel very passionate about Bangladesh and that they want to explore avenues to engage more in their home country.
Lutfey Siddiqi, visiting professor at the London School of Economics; Faisal Ahmed, chief economist of Bangladesh Bank, and Humayun Rashid, chief executive of Energypac Power Generation, gave three keynote presentations at the conclave.
In addition, there were four round tables and three brainstorming sessions on Bangladesh's potential and the role of the diaspora.