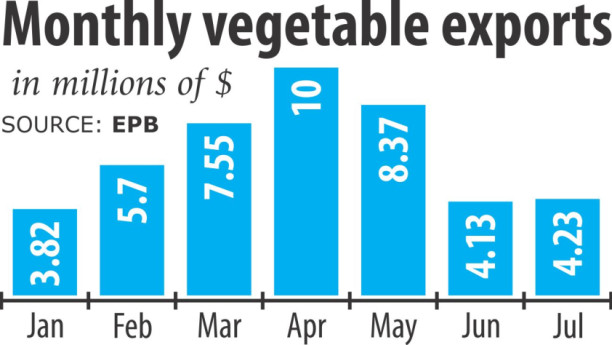 Vegetable exports from Bangladesh have declined dramatically in recent months as massive floods have damaged seasonal crops in many districts, exporters said.
Even two months ago, exporters shipped up to 120 tons of vegetables a day, but the quantity dropped to 70 tons per day due to shortage of fresh produce.
Most of the fertile northern districts, including Kurigram, Thakurgaon, Lalmonirhat, Rangpur, Jamalpur, Bogra and Sunamganj, have been affected by floods.
In addition, transport is also a big challenge for vegetable exporters, as roads and highways have also been damaged by flooding, said Mohammad Mansur, general secretary of the Association of Exporters of fruit, vegetables and related products from Bangladesh.
"We are facing a shortage of products," said Khaledur Rahman, a vegetable exporter.
In high season, when there was no flood, Rahman exported between 4 and 6 tons of vegetables a week. But now the quantity has become negligible.
Rahman said that his quantity refused not only for the flooding, but also for a permanent self-imposed ban on the export of vegetables to the European Union by the government.
The Plant Protection Wing of the Department of Agricultural Extension has banned the export of vegetables to the EU to avoid any harsh action.
The plant protection wing had a self-imposed ban, as a few months ago there were warnings about non-compliance with the EU In the shipment of vegetables, said Md Anwar Hossain Khan, deputy director of exports.
"We stopped exports of vegetables to the EU for a few months while we found insects in shipments.
The EU, especially the United Kingdom and Italy, is a major destination for the country's fruits and vegetables due to a large population of non-resident Bangladeshis.
Of Bangladesh's total vegetable exports in one year, 60% are sent to the EU and the remaining 40% elsewhere, according to exporters.
Khan also said his office relaxed the ban slightly for three to four items like lemon and vegetables a few days ago because those are unlikely to have insects on them.
He hopes however that the ban could be lifted permanently at the beginning of next year, as exporters were invited to pack the products of the central warehouse partly launched there some months.
The central packaging house, which has been installed in the Shyampur area of ​​the city, has washing, sorting, grading, packing and cooling facilities for fruit exporters And vegetables to ensure hygienic treatment before shipment.
Bangladesh exports carrot, tomato, potato, eggplant, spinach, cauliflower, papaya, pumpkin, gourd, cabbage, Coriander, ladies finger, cucumber, bitter gourd, bean, jute leaf, pestle, radish, dried fish, fish And meat.
District farmers also increased vegetable prices by 40% due to flooding, said Mansur.
Mansur said that the ban on direct freight flights from Dhaka to the EU also hit exports.