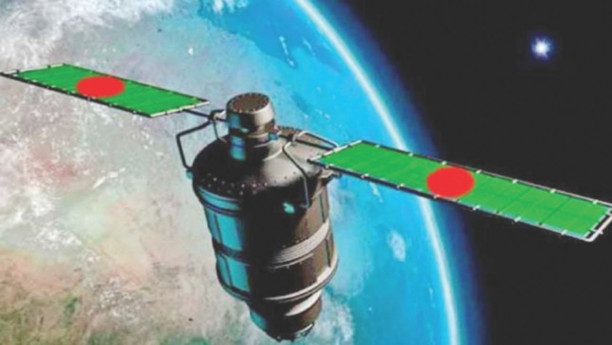 The launch of Bangladesh's first commercial satellite, Bangabandhu-1, was postponed until March, although its construction was completed by the French manufacturer, due to the busy schedule of the US launch station.
Initially, the government had planned to usher in the much talked about satellite in December so that it coincides with the celebrations of the 46th Victory Day.
An expert team from the Bangladesh Telecommunication Regulatory Commission (BTRC) led by its chairman Shahjahan Mahmood recently visited the Thales Alenia Space plant in France and saw the complete structure of the satellite .
"We've seen different parts of the satellite ourselves and now it's on Thales's storage," Mahmood said at a meeting with members of Bangladesh's telecommunications journalists network.
The satellite will be sent from France to the Kennedy Space Center in Florida one month before the launch date.
Mahmood indicated that a specific date has not yet been set but that the likely launch could take place in March according to Thales information.
A senior Bangabandhu satellite launch project manager, asking for anonymity, said that there was a 95% chance that the launch would be done by March. If the date is missed, it will certainly be launched by the second week of April.
US Space Exploration Technologies Corporation (SpaceX) will use its Falcon 9 launcher to launch Bangabandhu-1.
"The US company has a very busy launch schedule.We have asked SpaceX to use a new rocket to launch the satellite.It takes time to manage everything," said the head of the BTRC.
Earlier this year, Thales Alenia Space signed an agreement with SpaceX to orbit Bangabandhu-1 using the Falcon 9 rocket carrier, a modern launcher.
SpaceX is a privately held aerospace products and space transportation company that has worked with NASA and transported goods to the International Space Station.
The estimated cost of the sophisticated and highly technical government project is 2,967 crores of Tk.
Bangabandhu-1 should provide services to all countries of South Asia as well as to Indonesia, the Philippines, Turkmenistan, Kyrgyzstan and Tajikistan, if its frequency is correctly coordinated, in accordance with the project documents.
Bangladesh is currently meeting its demand for satellite connectivity by leasing bandwidth to foreign operators, costing the country about $ 14 million a year. Once launched, Bangabandhu-1 will save the foreign currency.
The life of the satellite will be 15 years, which will allow the country to earn $ 1 billion in leasing and another $ 1.5 billion in other services.
In November 2015, the BTRC signed a $ 248 million contract with Thales Alenia Space for the manufacture and launch of the satellite.
Answering a question, Mahmood said that there was no chance that the Bangabandhu-1 satellite service area would collide with the newly launched South Asian satellite, which was designed, built and launched by India.