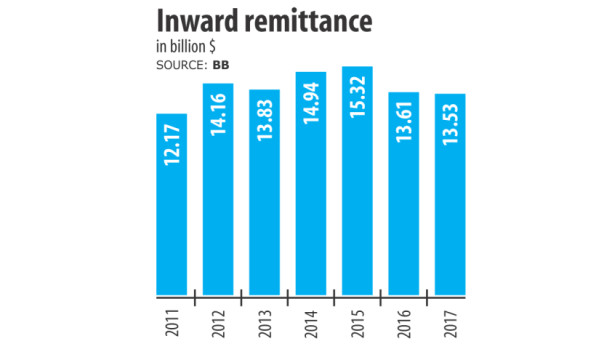 Remittances reached their lowest level in six years, reaching $ 13.53 billion in 2017, as many Bangladeshi expatriates sent money through illegal channels.
In the past year, Bangladesh's main source of foreign exchange was 0.53% below that of 2016, when migrant workers turned in $ 13.6 billion, according to data from the central bank.
Migrant workers opted for illegal channels like hundi for most of the year because of a lower US dollar rate against taka, according to bankers and experts.
However, remittances accelerated during the last months of the year, as the local currency depreciated sharply against the greenback but did not offset the decline in the largest number of months to rise above 2016.
Salehuddin Ahmed, former governor of Bangladesh Bank, told the Daily Star yesterday that the flow of remittances was still not on track despite the bullish trend of the past few months.
The depreciation of taka against the dollar has helped the country increase its income through remittances in recent times, but it may be temporary, he said.
The interbank exchange rate was 82.70 taka on 1 January, up 5.08 percent from 78.70 taka the same day a year earlier, according to data from the central bank. Ahmed said the latest volatile situation in the banking sector has eroded customer confidence which has left a negative impact on the mobilization of bank deposits, including remittances.
Migrant workers sent their hard-earned money to their loved ones through the illegal channel to get higher rates than those offered by banks, he said. "The export of human resources has recently increased, but the majority of workers are unskilled, so this does not bring good results."
MA Halim Chowdhury, managing director of Pubali Bank, said the earnings of many Bangladeshi expatriates have declined recently, affecting the flow of remittances.
He said the central bank had strengthened its oversight of cross-border financial transactions through hundi, which boosted remittance income.
Syed Mahbubur Rahman, managing director of Dhaka Bank, said the upward trend in remittances would continue over the next few months if the exciting exchange rate prevailed.
The central bank should continue to monitor hundi in the best interest of the flow of remittances, he said.
The sending of funds is a major source of foreign exchange for Bangladesh and its descent since the 2015-2016 fiscal year has gradually become a subject of concern for the government.
Hundi traders quickly transferred funds to relatives of Bangladeshi expatriates via mobile services, which resulted in a decrease in the amount of bank transfers, said the Institute of Management of the Bank of Bangladesh in a report in December. ]
In November, an interdepartmental committee presented 18 proposals aimed at stimulating the flow of remittances through the official channel and at staving off the growing threat of digital hundi.
Remittance income was $ 1.16 billion in December, growing 21.74% year-over-year.