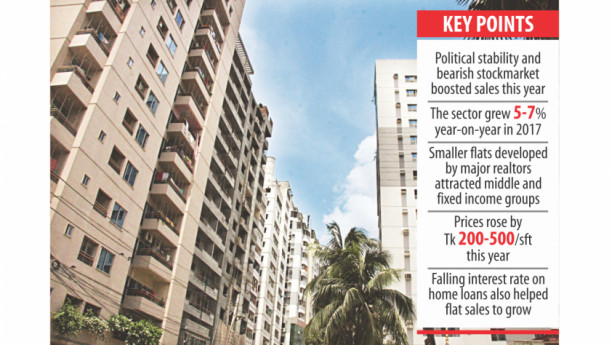 Real estate agents expect the real estate market to prosper in 2018, with sales finally starting to rise this year as interest rates have been reduced by banks. a single digit.
Relative political calm, the downward trend in the stock market and the lack of solid investment options also boosted sales in 2017, resulting in a spiral of prices in almost all regions except Gulshan and Baridhara in the capital.
"I think the real estate sector will get a boost next year," said Toufiq M Seraj, general manager of Sheltech, one of Bangladesh's leading developers.
Seraj, who closely follows the real estate market, said the sector had begun to recover – albeit slowly – from July.
While no accurate data is still available on sales of homes, commercial spaces and land during the outgoing year, the Housing Association and housing Bangladesh said the sector has grown by 5 to 7% in 2017 several years.
"2017 was way better than 2016 and 2015," Seraj said.
The housing market experienced a slowdown in 2012 due to intermittent political instability, a bearish stock market and the apathy of the government to provide gas connections to new buildings.
Developers have said that real estate price corrections in recent years have attracted many potential buyers of homes.
Prices peaked in early 2017, after which they began to recover gradually, Seraj said.
The construction of relatively smaller apartments by large developers also attracted fixed income and middle income groups.
"The real estate sector is repositioning itself, apartment prices have also been corrected, and we developers have been paying attention to design features in line with customer demands," he added.
Prices have risen by 200-500 Tk per square foot this year in almost every region except for Gulshan and Baridhara, said AKM Shafiuddin Shahin, Sales Manager of Structural Engineers Ltd.
"It's because of the increase in demand."
Shahin then linked the relative political calm in 2017 to the resumption of real estate sales. "People tend not to make new investments in times of political instability."
However, demand for luxury apartments has not increased, according to the developers. "It seems that some of the rich are more interested in owning a second home abroad," he added.
The number of unsold apartments has dropped due to rising sales, said Noor-E-Alam Siddike, executive sales director of Building Technology and Ideas.
"I think everyone understood that the market was stable and that prices would not fall any further," he said, adding that the drop in interest rates on mortgages was a important factor in the resumption of sales in 2017.
In some cases, the interest rate fell to 8%.
"The drop in the interest rate on mortgage lending has encouraged many middle classes to think about buying their own homes," said Mohammad Farhaduzzaman, Marketing Manager at Eastern Housing. The low interest rate, coupled with the lack of attractive investment opportunities in other sectors, including stock markets, will lead to increased investment in the real estate sector.
"It is unlikely that the interest rate will rise rapidly," he added.
Like Seraj, Shahin also thinks that next year will be a good year for the real estate industry.
In another development, investments in Bangladeshi apartments living abroad have increased in 2017. It is expected to increase further in 2018 due to the uncertainty surrounding immigrants in the West. , he said.
"The market will grow next year if there is no political instability.The main challenge is to connect the gas to the household," Siddike said. from BTI.
Farhad of Eastern Housing said the government has already stopped giving new connections to households.
"The sector will be seriously affected if the gas connection is not provided to households next year," he added.
The situation of electricity has improved, according to Seraj.
The government should provide a gas connection to homes where there are reserves and the ability to distribute to Dhaka, he added.