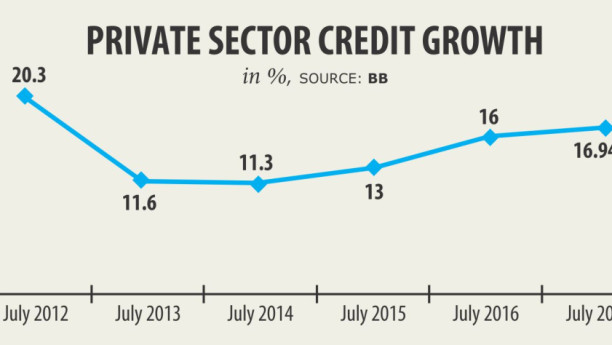 Private sector credit growth in July was 16.94 percent – the highest in five years and well above the target of 16.2 percent set in the monetary policy for the first half of the fiscal year.
Development is all the more marked as private sector credit growth was 15.66 percent just one month earlier – well below the monetary target of 16.5 percent hundred.
This forced the Bangla-desh Bank to reduce the private sector credit target for the first half of fiscal 2017-18 to 16.20 percent of 16.50 percent.
The last time private sector credit growth was as high as in July, it had returned in November 2012, when it was 17.2%. After that, it decreased, according to data from the Bank of Bangladesh.
Bankers attributed the peak to lower interest rates and rising demand for loans.
There has been a significant increase in import payments in July, said MA Halim Chowdhury, Managing Director of Pubali Bank, the largest private bank in terms of branch network.
The payment of imports through LC settlement increased by 23% over the previous year to $ 4.5 billion in July, according to data from the central bank. A month earlier, the amount was $ 3.41 billion.
"In addition, loan demand has increased in recent months," said Chowdhury, adding that government-sponsored development project entrepreneurs also take loans from banks.
By the end of July, total outstanding loans stood at Tk 778,000 crore as opposed to Tk 665,300 crore a year earlier.
The central bank, however, is not dynamic after the growth of private sector credit in July.
"It 's just a month. It does not give the full picture," said a senior BB economist.
Growth picked up again in July because lending activities were silent in June due to the extended vacation during the month, he said.
It predicts that private sector credit growth will remain in the 16.2% in the first half of the 2017-18 fiscal year.
Anis A Khan, managing director of Mutual Trust Bank, agrees with the BB economist about the tip in July.
"This could be a seasonal effect," he said, adding that the average is still mediocre.
If the average growth of private sector credit remains at 16 percent, it will be good for the banking sector, he added.
Private sector credit growth surpassed 20% in 2012, as banks lent aggressive loans. The average loan rate was over 14 per cent in 2012.
Credit growth began to decline in 2013 amid growing political violence centered on national elections scheduled for January 5, 2014.
Since then, credit growth has been steadily declining and has risen to 11% at the end of the year, according to data from the central bank.
Private sector credit growth has fluctuated between 11 and 12 per cent in 2014.
The banking sector experienced a decline in credit demand until 2015, recording a 13% growth.
Loan demand has started to increase since the beginning of 2016 on business expansion activities caused by political calm and slowing lending rates.
Credit growth remained above 15 percent throughout 2016, while the loan rate was 10 to 11 percent.
The loan rate in the banking sector fell to 9.56 percent in June this year, making credit affordable for borrowers.
Although the private sector experienced remarkable credit growth, public sector borrowing remained at 15.32% in negative terms compared to the 3.80% monetary target.