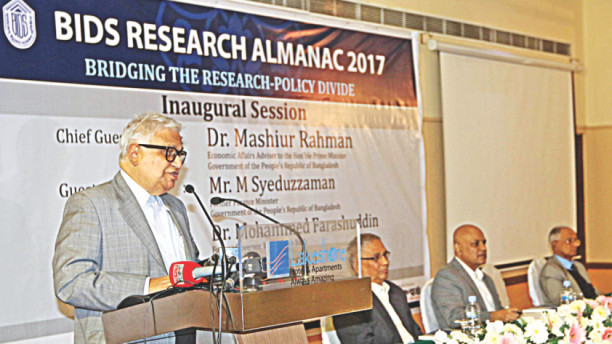 The creation of three new banks will bring nothing good to the banking sector, because existing banks are already sealed by a large volume of unproductive loans, said yesterday a former finance minister.
M Syeduzzaman said: "57 banks are too many considering the size of the economy.So there is no need to authorize a new bank."
He spoke at the inauguration of a two-day conference hosted by the Bangladesh Institute of Development Studies at the Lakeshore Hotel in Dhaka.
Syeduzzaman said that the central bank's supervisory and control system over the banking sector is not good enough, which has contributed to the increased trend of defaulted loans.
The ratio of unproductive loans in state-owned banks is much higher than that of private commercial banks due to weak business performance, he said.
"We should pay more attention to the banking sector in order to strengthen its financial health," said the former secretary of finance.
Syeduzzaman also said that the flow of foreign direct investment has not yet reached a satisfactory level due to the lack of necessary infrastructure.
Mohammed Farashuddin, a former central bank governor, said the banking sector has expanded considerably, but the Bangladesh Bank has failed to strengthen its supervisory capacity to catch up with its expansion .
He said: "Default lending in the banking sector is still lower than in a number of neighboring countries.There are many methods to control NPL."
Mashiur Rahman, economic affairs adviser to the prime minister, said new avenues should be discovered to invest remittances into the productive sector since the hard-earned money sent by migrant workers is used for consumption.
He also said that the regulatory boards play an important role in setting and resetting the prices of electricity and gas and mobile phone call rates.
"We should ask ourselves whether the commissions have acquired the skills and the quality necessary to make appropriate decisions in this regard."
KAS Murshid, Director General of BIDS, chaired the session.