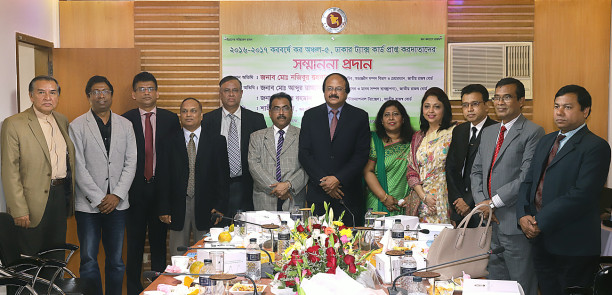 The National Revenue Council yesterday honored the best taxpayers for 2016-17 in fiscal zone 5.
The chairman of the National Revenue Council, Md Nojibur Rahman, handed them emblems at a ceremony held in the office of the revenue administrator, Segun Bagicha, for Tax Area 5.
He praised the tax card holders, saying, "These individuals or businesses contribute to the development of the country."
"They pay taxes themselves and give examples to others."
Mahfuz Anam, publisher and publisher of the Daily Star, accepted the coat of arms on behalf of Mediaworld Ltd, the company owning the newspaper, while Tofail Hossain received the trophy on behalf of the East
West Media Group Ltd. and Mohua Mahbub Khan on behalf of Bay Developments Ltd.
SA Chowdhury accepted the ridge on behalf of Space Zero Ltd., Md Taufiqul Islam Chowdhury on behalf of ASA, Sirajul Islam on behalf of Buro Bangladesh and Habibur Rahman on behalf of a long-time taxpayer Md Saidullah Mia.
The members of the BNR, MM. Abdur Razzak and Habibur Rahman Akhand, the director general of Central Intelligence Unit Belal Uddin and the Commissioner of Tax Area 5, Shaheen Akhter, also took the floor.