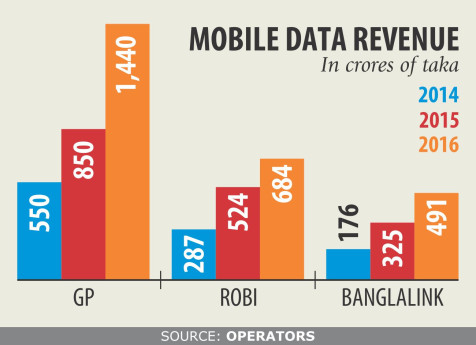 Data service emerges as a solid revenue generator for mobile operators after the launch of the high-speed 3G network in the second half of 2013.
In 2016, the segment accounted for 12.5 percent of Grameenphone, Robi and Banglalink revenues – the country's top three carriers that have a market share of about 97 percent.
By 2015, the data service obtained 8.32 percent of the revenues of the three operators, up 5 percent in 2014 and 2 percent in 2013.
"In our assessment, it will take 7 to 8 years for operators to gain more data services than voice services," said Ekram Kabir, Robi's vice president.
Kabir's comment echoes those of other operators.
"In the digital world of tomorrow, customers will use smartphones for their daily tasks, whether it's shopping or reading books and newspapers, listening to music or watching movies "Said Asif Ahmed, head of corporate communications at Bangla-link.
Customers will have to consume more data to enjoy digital benefits, he added.
The market leader Grameen-phone recorded a 77% growth of its turnover in 2016, although more than 70% of its customers do not own 3G handsets
.
The operator earned Tk 1,440 crore mobile data services last year, which is 12.53 percent of its total revenue, according to its financial statements.
It gained Tk 850 crore and Tk 550 crore data services in 2015 and 2014 respectively.
"The lack of 3G handsets is an obstacle to the continued growth of data revenues," said Sayed Talat Kamal, Grameenphone's external communications manager.
To become a more data-centric operator, Grameenphone needs more spectrum and technological neutrality to launch 4G services, which would provide a higher mobile Internet speed.
With 4G, which is the fourth generation of mobile wireless telecommunication technology, operators can provide Internet speed up to ten times faster than 3G.
Robi's data revenues soared 31 percent to Tk 684 crore in 2016, accounting for nearly 13 percent of the operator's total revenue.
The government must take various measures such as importing low cost quality devices and reducing spectrum prices to take the data services to its optimal stage, he said.
The input of data depends on many factors such as device, good local content, scanning global services and network quality.
"And here industry, government and regulators must work together to ensure that an affordable network can be established and the content can be developed to meet the demand of the industry. Future generation, "Kabir added.
Banglalink, the country's third operator, earned Tk 490 crore, accounting for 10% of its total revenue, last year's data services. In 2015, it gained 6.9 percent of its segment revenue.
The operator has seen many of its users switch from characteristic phones to smartphones in recent times.
"With the launch of 4G, the use of data will increase significantly," said Ahmed of Banglalink, adding that the operator has already Made compatible with its compatible 4G SIM cards
.
By the end of 2016, the number of mobile Internet connections was over 6.3 crore, up 5.15 crore at the end of 2015.