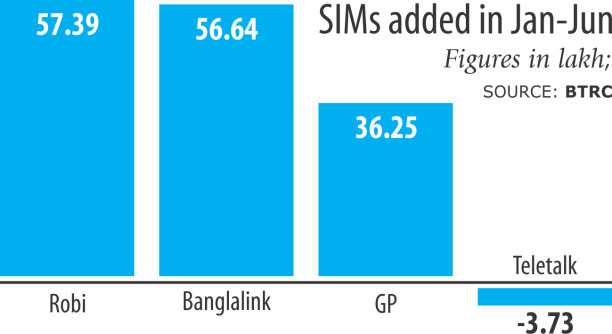 The telecommunications industry has experienced a boost in the last six months as more and more people take digital services.
Between January and June this year, the industry added 95.91 lakh new mobile subscribers and 67.24 lakh Internet users, according to data from the telecommunications authority, unveiled yesterday.
Over the past six months, total active mobile connections grew by 7.59 percent and a 10.09 percent Internet connection growth. At the end of June, total mobile connections were 13.60 crore and Internet connections 7.34 crore, according to the Bangladesh Telecommunications Regulatory Commission. Telecommunications insiders said this growth was very natural and said it will continue in the coming years as people become more accustomed to digital services.
"This is a growth rate expected for us and we believe that this will continue over the next few years, as the market still has a lot of potential," said TIM Nurul Kabir, 39 Association of mobile telecommunications operators of Bangladesh.
Although the number of SIMs is 13.60 crore, the number represents about 56% of the country's population, according to world statistics. "It can reach up to 70 percent by 2020."
In the Internet segment, mobile operators dominate with 6.87 active Internet connections crore, followed by Internet service providers at 46.22 lakh and wMax operators dying at 75,000 customers.
"People use more Internet to buy products," said Kabir, adding that the use of the Internet will increase with the advent of 4G, which speeds up speed.
ROBI TOPS LIST OF NEW SUBSCRIPTION
Robi and Airtel newly merged added the largest number of customers – 57.39 lakh – during the period to take their total subscriber base at 3.96 crore.
Banglalink, which is now the third largest operator, added 56.64 new lakh customers to take the account to 3.15 crore.
Market leader Grameenphone added 36.25 lakh subscribers, expanding their subscriber base to 6.16 crore.
Teletalk, of public origin, lost 3.73 lakh subscribers and was left at 33.6 lakh customers in late June.