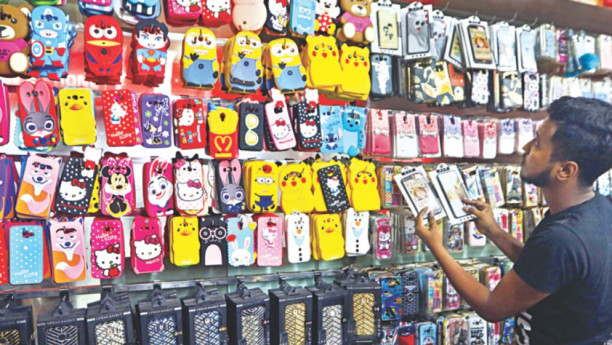 The growing popularity of smartphones has generated a prosperous market for mobile accessories, such as power banks, headsets, data cables, memory cards and phone covers.
The ancillary accessories market is at least a quarter of the current market size of Tk 10,000 crore and growing exponentially, industry insiders said.
The worldwide market for mobile phone accessories is expected to reach $ 107.3 billion by 2022, according to alliedmarketresearch.com.
The main factor that stimulates market growth is the increase in the adoption of smartphones in urban as well as rural areas.
Currently, the size of the mobile accessories market in India is worth about $ 1 billion and is expected to increase by 20 to 25 percent year-on-year, according to a Hindustan Times report released in November of the 39 ;last year.
"Alongside our phone business, we also pay close attention to our accessories business, which is growing faster and faster," said Jakaria Shahid, Executive Director of Edison Group, The parent company of Symphony's market leader.
Edison Group started its accessories business in 2012. It imports mobile accessories from China.
Shahid said that they are working to start a plant to assemble mobile accessories like batteries and chargers to meet the growing demand.
The market value of mobile accessories in Bangladesh is about Tk 2,500 crore at Tk 3,000 crore and it increases by more than 30 to 40 percent year on year, a Said Shahid, who is also General Secretary of the Association of Mobile Phone Importers of Bangladesh. Along with popular accessories, other items such as Selfie sticks, zoom lenses, tripods, mobile rings holders and lens kits are also available on the market. Global brands also enter this sector of activities.
For example, the Chinese mobile phone manufacturer Huawei offers a wide range of accessories such as bluetooth headsets, fast chargers, energy banks and selfie sticks.
The demand for original accessories is gradually increasing as people become more aware of genuine products because of their superior quality, said Ziauddin Chowdhury, deputy director of the Huawei business department Bangladesh Technologies Ltd.
"We believe that this sector has a huge growth prospect in the country as more and more people now use smartphones and that the government also plans to introduce 4G technologies, Global smart phone industry as well as Sector accessories, "he added.
A few years ago, only a handful of wholesalers at the Motalib Plaza in the capital had the habit of meeting the demand for mobile accessories as a whole, said Ms Alamgir Hossain Akash, owner of Prince Telecom on the market.
Now importers of accessories have emerged in other major cities such as Chittagong, Sylhet, Rajshahi and even Narayanganj.
Every week, seven to eight containers of accessories are unloaded at the Motalib Plaza, where there are hundreds of importers, Akash said, adding that mobile chargers and data cables are the items The best sellers.
"Teenagers, especially girls, nowadays use their phone coverage as a fashion accessory. Many change covers match their outfits, so they have more" A cover for a single handset, "he added. E-commerce platforms also sell mobile accessories. Mirajul Huq, CEO of bagdoom.com, said that mobile accessories sell well on the ecommerce site.
Shippers and covers are the most popular products, said Kamrul Hassan Mohsin, owner of amarpriyo.com, another e-commerce platform.