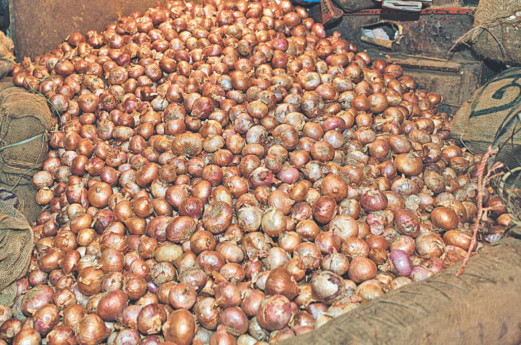 A good domestic crop and an upsurge of imports have led to lower onion prices, to the dismay of many producers who are now watching the losses.
In crop areas, prices of the most popular variety of local cultivated onions dipped to Tk 600 a maund (40 kilograms) of Tk 800-Tk 900 last year, according to tradespeople. And this is the same story for the other varieties of onions.
"This year 's prices seem to be one of the lowest in years," said Ms Safar Ali Biswas, an onion grower in the village of Chowgachhi, Magura, one of the Growing onions.
For Biswas and many others in the southwestern and northwestern districts of Magura, Rajbari, Faridpur and Pabna, onion cultivation, an essential ingredient for cooking, 39, one of the main sources of income.
"At higher prices, it will not be possible to bear our cost of living," said Biswas, who has grown onion on an acre this season.
He has to invest 13,000 Tk to grow onion on 28 decimals of land, where he can get 20 to 28 maunds of vegetables. The sum does not include the cost of labor.
"Cultivators here grow onion and garlic as cash crops, so the price drops reduced their income," said Gobinda Saha, an onion trader In the district of Rajbari.
Sufficient supply of onions in the midst of a good local harvest and increased imports have lowered prices, said traders and farmers.
Imports of onion rose by 54% year-on-year to 7.14 tonnes lakh in the first half of 2016-17, according to the Bangladesh Bureau of Statistics. "We suffer from low prices every time imported agricultural products flood the market," said Abdul Hai, a small farmer in Pabna.
Nationally, the area of ​​onion and production have increased since the 2013-2014 fiscal year due to the renewed interest of producers. During the 2015-16 fiscal year, Bangladesh's onion production increased by 2% over the previous year, to 17.35 lakh tons. It has been grown on 1,77 lakh hectares this year, according to BBS.
Farmers planted onion on 2.10 lakh hectares this fiscal year, according to estimates from the Ministry of Agricultural Extension.
Neighboring India, a great source of essential ingredients for Bangladesh, experienced a higher production this year.
As a result, prices in Bangladesh have remained low for the past few months, said Ratan Kumar Saha, an importer of onions. Narayan Chandra Saha, a wholesaler of the Shyambazar market, expects that onion prices remain low for the coming months.
In Dhaka, retail prices of locally grown onion were Tk 20-26 per kilogram yesterday, down from Tk 25-35 a year ago. Prices of imported onion were also lower than last year's level, according to data from the Bangladesh Commercial Corporation. To protect farmers, Mohammad Kamruzzaman, an onion trader in Sachilapur, Magura, urged the government to discourage imports during the harvest period.