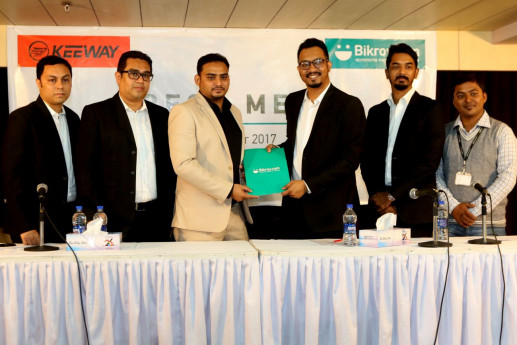 Bikroy.com, one of the largest online markets in Bangladesh, yesterday signed an agreement with Keeway, a popular brand of Chinese motorcycles, to market online two-wheelers and associated spare parts .
The organizations signed a memorandum of understanding in this regard at the capital's Daily Star Center.
Bikroy.com customers will receive exclusive helmets and attractive gift baskets with their purchases.
Customers will also receive equal monthly interest-free payment facilities using Amex cards, United Commercial Bank, Eastern Bank, Standard Chartered Bank, LankaBangla Finance and Southeast Bank.
Isa Abrar Ahmed, Senior Director of Bikroy.com, and Mehediur Rahman Paiker and Zaman Sowad Khan, Managing Director and Deputy General Manager of Speedoz, the motorcycle brand distributor, attended the program.