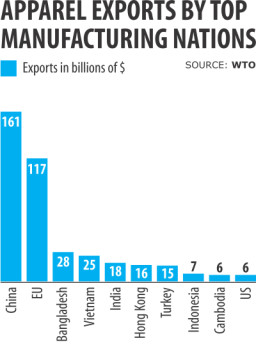 Bangladesh can not seize garment work orders, which are transferred from China to other countries, due to low capacity, weak infrastructure and Lack of energy supply, said the exporters.
China's market share in international clothing trade has declined in recent years due to the shortage of skilled workers and the shift from manufacturing to high-end and technological products.
Last year's market share amounted to 36.7% or $ 161 billion, down 8% from the previous year, World organization of commerce.
In other words, China lost garment work orders valued at $ 14 billion in a single year to other countries.
On the other hand, the market share of Bangladesh, the second largest clothing supplier in the world after China, is increasing but marginally, which means that the country is unable to take orders from China's changing jobs.
In the international clothing trade, Bangladesh's market share was $ 28 billion in 2016, up 7.69 percent from the previous year.
"Bangladesh was supposed to get more offbeat orders from China, but unfortunately, these were received by other countries like Vietnam, Myanmar and Cambodia," said Ahsan H Mansur, Executive Director of the Policy Research Institute.
Chinese entrepreneurs have also made investments in Myanmar, Vietnam and Cambodia, he added, adding that they had a plan to invest in Bangladesh, but the country could not manage land , An adequate gas and power for investors.
On the other hand, after the collapse of the Rana Plaza building in April 2013, the garment sector experienced no major domestic investment except for the expansion of existing units by the Large clothing companies.
"As a result, a capacity shortage was created," Mansur said.
While the number of garment factories was expected to increase due to abundant labor orders from the western world, China, Japan and other emerging markets, it was not Circulated in this way, he added.
On the contrary, over 1,000 small plants have been closed due to strict inspection and sanitation by the Accord and the Alliance, Inspection of foreign buildings, according to the Association of Clothing Manufacturers and Exporters of Bangladesh. Siddiqur Rahman, president of BGMEA, said Bangladesh is receiving a small amount of work orders that are diverted from China. However, he said that the volume of these orders would increase in the near future.
In such a situation, Bangladesh should allow foreign investment in the garment sector and make the special economic zones functional as soon as possible so that Chinese investors can also invest in Bangladesh, Mansur added.
Investors from many countries have been lobbying governments over the years for permission to invest in garment factories outside export processing zones, but FDI Has been limited to these areas.
"We have no problem if foreign investment is allowed in the garment sector.We want foreign investors to come in the high-end segment and in textile manufacturing so we get fabrics on The local market, "said Rahman of BGMEA.
Trade Minister Tofail Ahmed recently acknowledged that there was no formal barrier in investment in the garment sector by foreign entrepreneurs outside EPZs , But generally these investments are not allowed to protect local entrepreneurs.
"However, we will allow FDI in the garment sector in SEZs, while the government has been working to develop 100 economic zones of this kind across the country," he added.
No SEZ has begun to function yet, although the Bangladesh Economic Zone Authority has been working to develop such areas across the country either by leasing land to individual local businesses, Or to countries such as Japan, India and China.