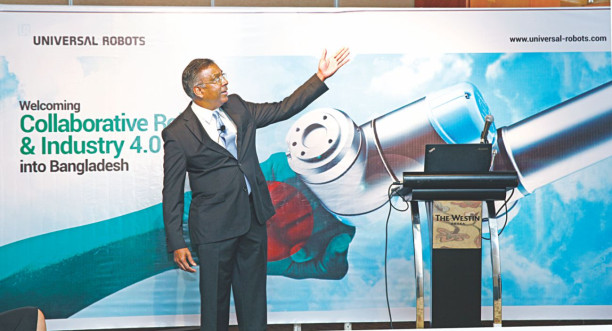 Universal Robots, the leading manufacturer of advanced and lightweight collaborative robotic weapons, began operations in Bangladesh yesterday.
"The collaborative robot is a powerful innovation in the industrial manufacturing sector, enabling automated production with unprecedented flexibility," said Pradeep David, general manager for South Asia at Universal Robots.
He spoke at the launch of the company at the Westin Dhaka yesterday.
"Our robotic robots automate and streamline repetitive industrial processes," explains David.
This approach will enable production departments to assign more creative positions to their employees, which will increase efficiency, productivity and value-added for businesses, he said.
The company's latest collaboration with an SME in India last January allowed a 300% increase in production over a short period of eight months, according to a statement from Universal Robots.
"Having successfully penetrated the Indian and Sri Lankan markets, we are looking forward to settling and growing up in Bangladesh as the country can provide us with tremendous development opportunities," said David.
Bangladesh employs more than 3 million people in the manufacturing industry. Thus, the introduction of collaborative robots will help boost industrial production, said the company headquartered in Odense, Denmark.
Collaborative robots, or Cobots, are lightweight, easy-to-use robotic arms that were developed by Universal Robots in 2008.
Its latest technological progress is in tune with the 4.0 industry, called automated revolution in the manufacturing industry.
Cobots are easy to program and install, and their collaborative nature allows them to work side by side with the workforce for high quality production. According to the company, no special training is required to handle them.
The main goal of Universal Robots is to empower workers by providing intelligent manufacturing solutions, which involve the use of collaborative robotics and automation.
"Such a type of automation offers significant benefits to small and medium-sized enterprises, ranging from productivity gains to shorter payback periods justifying long-term investment."
Universal Robots was co-founded in 2005 by the technical director of the company, Esben Østergaard.
The company is part of Teradyne Inc. and has subsidiaries and regional offices in the United States, Spain, Germany, Italy, the Czech Republic, China, Singapore, India, Sri Lanka, Japan and South Korea.