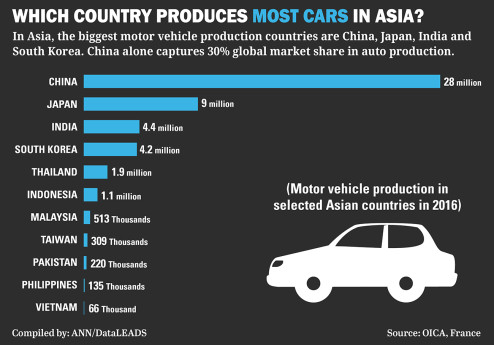 In Asia, the largest automotive production facilities are in China, Japan, India and South Korea. China, however, captures a larger pie of the world market share in auto production than any other Asian country.
China has produced about 28 million vehicles that captures 30% of the world market share in automotive production and leads all other countries in Asia, according to International Organization of Automobile Manufacturers (OICA) France, 2016.
Japan is responsible for the second largest number of vehicles produced (9 million). India with 4.4 million and South Korea with 4.2 million vehicles manufactured, are also among the Asian countries that own the major automotive production plants. Thailand and
Indonesia also produced 1.9 million and 1.1 million vehicles respectively in 2016.
There is an increase of 4 million in China's production from 2015 While the increase in vehicle production in India last year is around 0.3 million on the basis of OICA data, in France.
India includes 0.04% of the world market share of automotive production and has become the third largest automotive producer country behind China and Japan.
Other Asian countries such as Malaysia (513 000), Taiwan (309 000) In 2016, Pakistan (220 000) and the Philippines (135 000) Production.
Vietnam, having a total population of 91.7 million, produced only 66,030 vehicles in 2016, which is even higher than the 50,000 cars produced in 2015.
Author Rights: DataLEADS / Asia News Network [