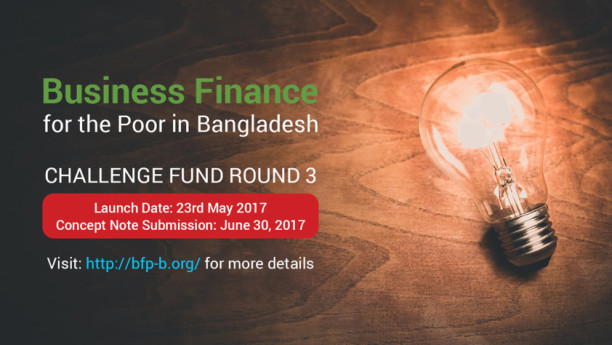 The third round of the Business Finance Challenge Fund (BFCF) will be launched at the Gulshan Lakeshore Hotel in Dhaka tomorrow.
The BFCF is a component of "Business Finance for the Poor in Bangladesh (BFP-B)", a UKaid program. The Challenge Fund was set up to support the testing and development of innovative approaches to financing micro and small enterprises. It is a unique, competitive and transparent mechanism through which organizations can apply for funding that will ultimately benefit the poor in Bangladesh.
The BFCF grant will have three windows for applications this year with a commitment of funds of 6 million GBP; Window 1: Business development services to improve access to SME finance; Window 2: New products, delivery chains and business models to increase MSE financing and window 3: Support women entrepreneurs access to finance.
Chris August, BFP-B team leader, will inaugurate the workshop and Afsana Islam, DFID-UKAID private sector development consultant, will address the launch event. Buddhika Samarasinghe, Director of Nathan Associates London; Arafat Hossain, Challenge Fund Manager and Muhymin Chowdhury, BFP-B Assistant Challenge Fund Manager will present in detail the fundamentals of the Challenge Fund and the application process to participants.
The deadline to submit the first step of the application process, a brief concept note, is June 30, 2017.
The guidelines of the executive summary, forms and all required information are available at BFP-B ] LinkedIn and twitter Pages. Privacy Policy Terms of Service RSS