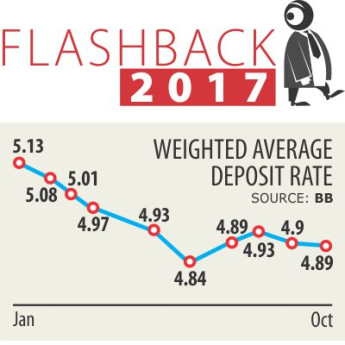 Even last month, the interest rate on the bank deposit was as low as 5%. Then, at the beginning of this month, as if that were the case, the rate, which was lower than the 6% inflation rate, began to climb.
The trigger for this sudden increase was the freezing of Tk 51 crore from ONE Bank's current account with the Bank of Bangladesh and Tk 25 crore from Premier Bank's for exceeding the limit set for the loan ratio. / deposit.
To avoid the same fate, many banks flirting dangerously with the ceiling made a desperate attempt to get deposits.
"Some banks that have a high loan-to-deposit ratio run after deposits to avoid regulator punishment," said Abdul Halim Chowdhury, managing director of Pubali Bank.
The ongoing liquidity crisis at Farmers Bank and the higher-than-expected growth in private sector credit – over 18% – have also made deposits more expensive, bankers said.
Credit growth in the private sector was 18.63% in October – well above the 16.2% monetary ceiling set for the second half of this year, according to data from central bank.
"We see a sudden pressure on deposits because many banks are running after the money," said Shafiqul Alam, managing director of Jamuna Bank.
Rising demand for funds has pushed the bank interest rate to drop from 50 to 200 basis points in recent days.
Top bankers said some lenders were making last minute efforts to show that their 2017 newsletter was better than their returns over the course of the year.
Take, for example, the case at Sonali Bank. The state bank yesterday received a request for withdrawal of 185 crore Tk from the telecommunications company of Bangladesh Ltd.
The telecommunications company asked Sonali to transfer the amount to seven private banks: Exim, IFIC, Jamuna, Mercantile, One, Standard and Social Islami.
But Sonali refused to honor the claim because the withdrawal of such an amount on the last day of the 2017 transaction would have a negative impact on the balance sheet, according to Mallik Abdullah Al Mamun, director of the branch Sheraton with which the account is registered.
"BTCL may withdraw the amount with seven days notice in accordance with its agreement with Sonali," said the head of the public bank.
But the telecommunications company sent the withdrawal notice yesterday and asked that the transfer be made the same day, he added, adding that the state-owned company was at the end of the year under political pressure.
"It's an unhealthy practice among private banks to use the government's repository just to show a better record at the end of the year," Al Mamun said.