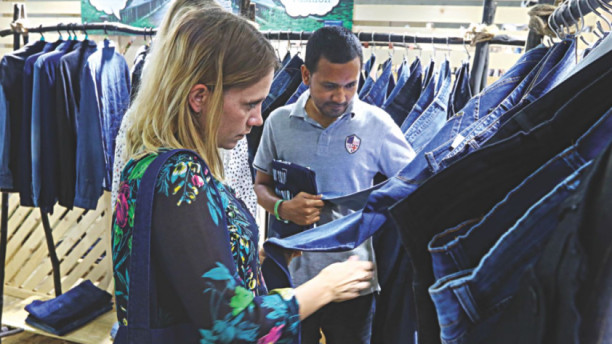 At least six new denim factories will be commissioned in Bangladesh over the next two years with an investment of $ 100 million.
The growing demand for denim fabrics from clothing manufacturers has encouraged investors to establish new factories here, said Mostafiz Uddin, organizer of Bangladesh Denim Expo yesterday.
"The response we receive from both local millers and strangers is huge," he told the Daily Star on the sidelines of the show at the Bashundhara International Convention in Dhaka.
A total of 65 exhibitors from 12 countries participate in the seventh edition of this two-day event.
Currently, Bangladesh has 30 denim factories capable of producing 435 million meters of fabric per year, said Mostafiz, who is also the managing director of Denim Expert Ltd.
Local suppliers can only satisfy 40% of Bangladesh's annual demand for denim fabrics and the rest are covered by imports from China, India and Pakistan, he said. .
In the last fiscal year, Bangladesh exported $ 2 billion worth of denim products.
Existing investments in the denim sector amount to more than a billion dollars and every year more and more people are showing interest in investing in the sector, said Mostafiz.
"However, I ask investors not to make new investments in basic denim fabrics," he said.
"We are already strong in denim base products, and now we need very fine fabrics to produce high quality denim products."
He also stated that fabric prices had fallen in Bangladesh due to the price war between local tissue producers.
Six months ago, a denim fabric yard was sold in Bangladesh at $ 2.5, which fell to $ 2 now, said Mostafiz.
As a new hub for denim products, many foreign companies are now opening offices or factories in Bangladesh, he said.
Landes, a German manufacturer of denim accessories, is the latest on the list to start production in its new factory in Savar on November 1st.
"We opened the factory in Bangladesh because we think it's the hub of denim and there are a lot of business opportunities here," said Manfred Slowik, director of Landes operations, at his booth at the expo. ]
The company has already invested $ 500,000 in the new plant which has 30 employees, Slowik said.
"From here the end of next year, the total workforce of our new plant will be 120 as and when new hires."
Landes aims to produce 500 million pieces of leather annually – an accessory to make denim trousers – at its Savar plant, Slowik said.
Such accessories will be provided to the entire Asian region, he said. "All major brands like H & M, VF and Walmart are my clients."
Similarly, Nezahat Boni, Account Manager at Orta, a Turkish denim manufacturer, said his company now provides three million meters of denim fabric in Bangladesh each year, which was only 800 meters in 2011.
"We opened an office in Bangladesh in 2011 because we can not ignore the importance of this country as a hub of denim."
Md Mujibul Hoque, sales manager for Bangladesh at Prosperity Textile in China, said his company had opened an office in Dhaka last year. Hoque's company sells four million yards of denim fabric per year in Bangladesh and aims to bring the amount to 40 million yards.
With the demand for higher denim, Bangladesh has overtaken China to become the largest supplier of denim in the European Union – a development that would give confidence to the apparel sector as it is expected to reach $ 50 billion in exports in 2021.
Between January and June 2016, Bangladesh exported 567.97 million euros of denim products to the block of 28 countries with a market share of 21.18%.
Bangladeshi entrepreneurs supply denim products to major global retailers, including Levi, Diesel, G-Star RAW, H & M, Uniqlo, Tesco, Wrangler, S.Oliver, Hugo Boss, Walmart and Gap.
Every year, 2.1 billion pieces of denim are sold worldwide. In 2014, the size of the global denim market was established at $ 56.20 billion. By 2020, the global denim market will reach $ 64.1 billion, while Bangladesh 's denim exports are expected to reach $ 7 billion by the end of 2021.