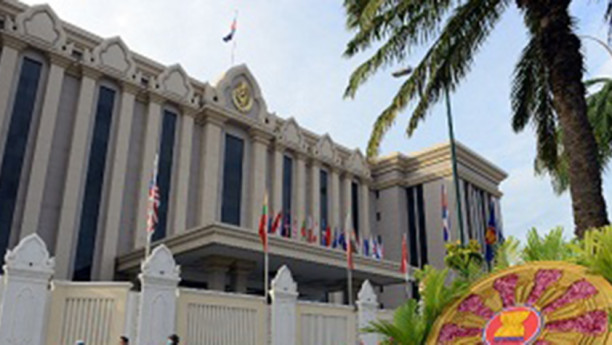 Bangladesh and Cambodia have signed 10 agreements including an agreement and nine memoranda of understanding aimed at strengthening cooperation in different fields such as tourism, agriculture, aviation civil society, ICT and technical education between the two countries.
The instruments were signed after the official bilateral talks between Bangladesh and Cambodia at the Peace Palace in Phnom Penh
See also: The world treats Bangladesh with respect
Prime Minister Sheikh Hasina led the Bangladeshi party during the talks, while his Cambodian counterpart Hun Sen led his country.
The two prime ministers attended the signing of the documents by the ministers and senior officials concerned from both countries.
Read more: Dhaka Seeks Phnom Penh's Support for a "Lasting Solution" Rohingya Crisis
The agreement signed today deals with cooperation between the Federation of Chambers of Commerce and Industry of Bangladesh (FBCCI) and the Chamber of Commerce of Cambodia.
Today 's memoranda of understanding concern cooperation in the field of tourism, aquaculture and fishing, ICTs and related industries, the protocol for the development agreement on cooperation between the Governments of Bangladesh and Cambodia.
A memorandum of understanding on cooperation and collaboration to preserve the history of war, war memorials and war relics, a protocol agreement on the modalities of institutional cooperation in the framework of the Joint Trade Council, a memorandum of understanding on cooperation and cooperation.
In addition, Memorandums of Understanding were signed on academic cooperation between the Bangladesh Institute of International and Strategic Studies and the Institute of International Relations of Cambodia as well as on institutional cooperation for investment promotion between the Bangladesh Investment Authority and the Cambodia Development Council.
Minister of Civil Aviation and Tourism Rashed Khan Menon, State Minister of ICT Division Junaid Ahmed Palak, Chief Coordinator of SDG Implementation Md Abul Kalam Azad, Secretary to Foreign Minister Shahidul Haque, Secretary of the Ministry of Fisheries and Livestock Maksudul Hasan Khan Aparup Chowdhury, Secretary of the Ministry of Liberation Affairs, Chafiul Islam Mohiuddin, President of FBCCI, and Kazi M Aminul Islam, Executive Chairman of the BIDA, signed the agreement and the memoranda of understanding for Bangladesh.
In addition, the relevant ministers and senior officials of the respective ministries and organizations of Cambodia signed the documents for their respective sides.