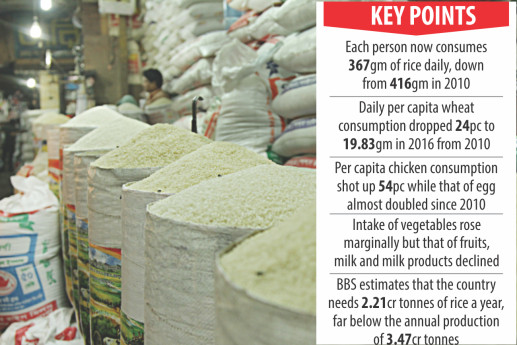 Per capita rice consumption in Bangladesh declined rapidly between 2010 and 2016 due to increased income that allowed people to diversify their diets by consuming more non-cereal foods.
Now, each person consumes 367 grams of staples a day, down 11% from 416 grams in 2010, according to a preliminary report from the Survey of Household Income and Expenditures 2016 published at the end of last week. ]
The Bangladesh Bureau of Statistics (BBS) also found that people have been reducing their consumption of wheat since 2010. Daily per capita consumption of cereals dropped by 24% to 19.83 gm in 2016 compared to 26 gm in 2010 .
Overall, daily consumption of rice and wheat by an individual decreased by 21% and 41% respectively compared to 464.3 and 33.7 gm in 1995-96, according to the HIES 2016.
On the other hand, the consumption of certain foods other than rice and wheat has increased over time. For example, each person consumed 49.5 grams of fish in 2010, up from 26% to 62.58 grams in 2016.
Since 2010, per capita chicken consumption has risen 54 percent while the figure has almost doubled for eggs, according to HIES.
Akhter Ahmed, representative of the International Food Policy Research Institute (IFPRI) in Bangladesh, attributes the increase in per capita income to the country's annual economic growth of 6.5%.
"When income rises, staple food consumption decreases and that of other foods increases.It is a good thing that the consumption of chicken and egg is increasing. Dietary diversification will be nutritionally sound. "
In Bangladesh, rice still accounts for 70 to 75 percent of caloric intake and 50 percent of protein, although grain is not a good source of protein, Ahmed said.
"The drop rate in rice consumption is expected to be faster than the current trend," he said.
Based on the estimate of daily per capita rice consumption according to the HIES 2016 report, the global annual rice requirement is expected to be 2.21 million tonnes for the 16.5 million people in the country. country. The quantity is much lower than the annual production of 3.47 million tonnes estimated by the BBS.
HIES data show that cereal consumption has decreased in both rural and urban areas between 2010 and 2016. People in rural areas eat more rice than people in urban areas.
However, daily vegetable intake per capita increased slightly while fruit, milk, and dairy products declined over the same period. BBS estimates that daily vegetable consumption per capita, a good source of vitamins and minerals, reached 167 g in 2016 compared with 166 g in 2010.
In urban areas, daily consumption increased by 13% to 174g / capita in 2016 compared to six years ago.
However, the daily intake of vegetables by one person in rural areas decreased by 3 percent to 164gm over the same period, according to HIES.
Ahmed said that increasing urbanization and income propel the demand for all kinds of food in urban areas.
"Given the high demand in urban areas, it seems that people in rural areas are sending their products to cities by consuming less for their income, higher vegetable productivity would generate a surplus and they could consume more food. food rich in nutrients, "he said.
He suggested conducting research on high value-added crops and value chain development to increase productivity and limit the loss of perishable commodities in the supply chain.
"We must pay attention to the packaging, processing, storage and development of cold chain facilities for better marketing of perishable products." It is vital, "he said. he said, adding that the development of a value chain would create jobs for rural youth.
The efficiency of marketing will increase and losses in the chain will decrease, he said.
He also suggested the development of contract farming, which will ensure that producers get reasonable prices for their products.
Dipankar Roy, director of the HIES project at BBS, said the increase in non-cereal food consumption was a good sign for the health of the population as well as for the economy.
He stated that the share of population expenditures for non-food items such as education and health has increased from 45.19% in 2010 to 53.3% in 2016. The share of food expenditures fell during the same period.
It indicates that people's quality of life improves, according to BBS.