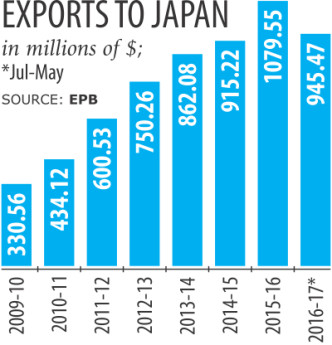 Shipments to Japan decreased by 3.7 percent to $ 945.47 million in the first 11 months of 2016-17 due to lower product prices and security concerns following the US- Attack of Holey Artisan in Dhaka last year, according to exporters.
Although earnings dropped 16.09 percent below the export promotion agency's periodic target of $ 1.12 billion, exporters hope to cross the $ 1 billion mark, The end of the exercise, a success already achieved in the markets of the EU, the US and Canada.
Japan is the leading export destination of Bangladesh among Asian countries and its market offers promising returns for quality clothing and leather and jute and related products.
Exports to Japan have increased in recent years maintaining nearly 20% growth each year.
Currently, Bangladesh's annual export earnings from other Asian countries such as China and India are around $ 700 million each.
Exports to Asian markets, especially those in Japan, have begun to increase as the financial recessions of 2008 and 2009 seriously affect the Western world.
In addition, the government of Bangladesh offers stimulus measures to explore new destinations like Japan, China and India. Markets around the world, other than the traditional ones of the EU, the United States and Canada, are considered new destinations.
Another catalyst was the relaxation of the original rules by the Japanese government on knitwear and woven garments of the least developed countries.
This has allowed Bangladesh to enjoy a commercial privilege without a right and a competitive advantage against countries like China, India and Pakistan to meet Japan's annual demand For clothing valued at over $ 40 billion.
"The export of clothing from Bangladesh to Japan is increasing every year. We are receiving a good response from Japanese retailers," said Mohammad Hatem, former vice president of the Association of Knitters Manufacturers and Exporters Of Bangladesh.
During the period from July to May, Bangladesh exported items worth $ 696.32 million worth of clothing to Japan, according to EPB data. As a result, $ 374.38 million came from woven articles and $ 321.94 million from knitwear. In addition, the Japanese government adopted the China Plus One policy in 2008, which aims to reduce China's excessive dependence on goods such as clothing, electronics and appliances.
"Overall, Japanese consumers are aware of the quality. They have been testing products from Bangladesh for years and have started coming to Bangladesh," said Tareq Rafi Bhuiyan, Secretary General of the Chamber Trade and Industry of Bangladesh Japan
.
Apart from clothing items, leather, jute and allied items from Bangladesh are taking place strongly in the Asian country of the Far East, said Bhuiyan.
However, they are a bit concerned about security while the Japanese government raised an alert following the attack in the diplomatic area of ​​Dhaka on 1 July last year, while nine Italians , Seven Japanese, three Bangladeshi and one Indian were killed. "Japan is a very promising market for us. We are expecting more export gains," said Bhuiyan.
He said that Bangladesh has already chosen a place in Araihazar Narayanganj to create a separate special economic zone for Japanese investors.