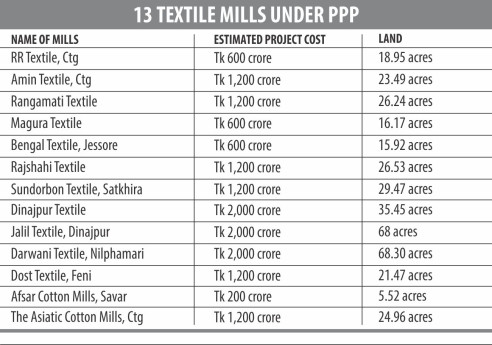 The government will renovate and reopen 13 textile factories as part of a public-private partnership for a cost of 15,200 crores Tk.
The Cabinet Committee on Economic Affairs approved a proposal from the Ministry of Jute and Textiles to that effect yesterday.
At present, the factories, owned by the Bangladesh Textile Mills Corporation (BTMC), remained shut down and the machines broke down.
About 380 acres of land with a market value of 1,592 crores remained unused in the mills, according to the proposal. Society will consider land as capital.
The private party will implement, maintain and market the project's products.
The shares of the project will be distributed according to the partnership and the number of shares allocated to each party will be determined by negotiation. The duration of the partnership can be 30 years. The committee also approved the purchase of 30 Mercedes Benz or BMW cars at an estimated cost of 24.26 crKa for the meeting of the OIC (Organization of Islamic Countries) to be held in Dhaka. next year. The cost excludes taxes.
According to a proposal from the Ministry of Civil Aviation and Tourism, the price of each car, including registration and insurance for the import, pupil at 80.89 tk lakh. If the duty is imposed, their price will rise by 597%. After the conference, the vehicles will be used for VIP guests invited to international conferences.
Of the cars, five will be handed over to the Ministry of Foreign Affairs and the rest could be handed over to the government's transportation pool.
The Cabinet Committee also agreed to purchase three 80-seat planes from Canada for $ 22.42 million each under a government-to-government agreement.
Dash 8 aircraft, which are fuel efficient and economical, will use seven domestic and three regional routes: Calcutta, Yangon and Kathmandu.
The aircraft, which is built by the Canadian aircraft manufacturer Bombardier Inc., is ideal for short-haul routes. Export Development Canada, which is owned by the Government of Canada, will provide Biman with the necessary credit to help buy the aircraft.
Biman's fleet now includes 13 planes: 10 Boeing, one Airbus and two Dash 8.
The initiative to acquire the new aircraft was taken because a number of aircraft will be withdrawn to be reshipped and returned once their lease is completed.
One of the Boeing will be removed from the fleet the last week of January and the other in March of next year for a new delivery, according to the proposal.
The Airbus will be back in February of next year, two Dash-8s in April 2020 and two Boeings in 2022, once their lease expired, according to the proposal.
At the present time, $ 1.68 lakh is spent each month for the two hired Dash 8 aircraft.